Milan Shoe Box - Off White
The Milan Box is the heart of the Sagitine range. Designed to perfectly store a pair of shoes, but used for so much more - small handbags, jewelry, scarves, love letters. What will you keep in yours?
More details

The Milan Shoe Box is the smaller of the Box range.

Crafted from recycled, dense hard card, hand wrapped in Sagitine paper and, finished with a Sagitine Leather Pull, our Milan Boxes are an elegant and functional storage solution.

The paper-like material of the box is designed to increase airflow around your treasures, limiting trapped moisture. While the purposefully tight fit limits the amount of household dust inside the box.

Use individually around the home, within your cupboard or walk-in-robe, or stacked atop one another for a space-efficient designer storage solution.
Dimensions and materials

W

22.5cm

x

H

12.2cm

x

D

33.5cm

Sagitine Boxes are made from a biodegradable and recycled hard card with a purposefully tight fit to ensure a high level of protection for your treasures.

An inner box slides out of a casing box and all Sagitine Milan Boxes come compete with a luxury Sagitine Leather Pull.
Shipping

IN STOCK AND READY TO SHIP

Shipping costs will be added to your cart at checkout.

We dispatch our orders from our Sydney warehouse within 7 business days of placing your orders. Metro deliveries take place within 10 business days of dispatch. Regional and rural deliveries can take longer. Please email info@sagitine.com with any questions, we're always happy to help.
Care

To clean our Boxes, Stands and Leather Pulls we recommend wiping down with a dry clean cloth. For anything gooey or for stubborn marks, please see our full care instructions.
Reviews
Best storage I bought these to use as wardrobe storage but they are too sleek and beautiful not to be on show. They've now replaced the storage boxes I had in my open cabinet in the lounge and have given it such an elegant vibe. I love that they are made from recycled materials too.
by Sian S.
Organised and elegant I'm so pleased with my Milan Shoe Boxes from Sagitine. They've given my closet a whole new level of organization and elegance. The tight fit, while slightly sticky, works wonders in keeping my items pristine. Knowing they're eco-friendly makes them even more appealing. Kudos to Sagitine for creating such a beautiful storage solution.
by Emily G.
Obsessed I've been absolutely obsessed with the Sagitine range for so long. I'm so glad I finally got some boxes. I love them so much, not only are they so beautiful but also SO functional! Such a great solution to keep shoes dust (and Bernie drool) free but also aesthetically pleasing and fitting with my home decor vibes.
by Tara P.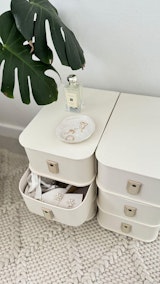 Luxurious and stylish I have the Milan Shoe Boxes and they're beautiful. My husband was very impressed by the quality and overall the luxurious style. I'll be sharing this brand with my friends for sure and I'll be needing a stand in my life in the future!
by Sara E.
See all reviews